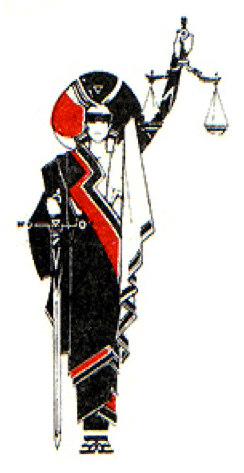 ANNUAL CONFERENCE
Registration is now open!  

Cost: $125 (the price will not increase after August 21st)
(Click here for a printable PDF of the brochure)

Vendor Registeration

Participant Registration
**NASW has approved 15.5 CEU's for completion/attendance of the full conference!**
 

TRAIN THE TRAINER OPPORTUNITY
Interested in becoming a Carey Guides and BITS trainer? Please read the information belong about the program, requirements, and other details. If you have questions, please email Stacy Ledvina or give her a call at 920.683.4240. Applications are being accepted through August 9, 2021! **EXTENDED DATE!!!**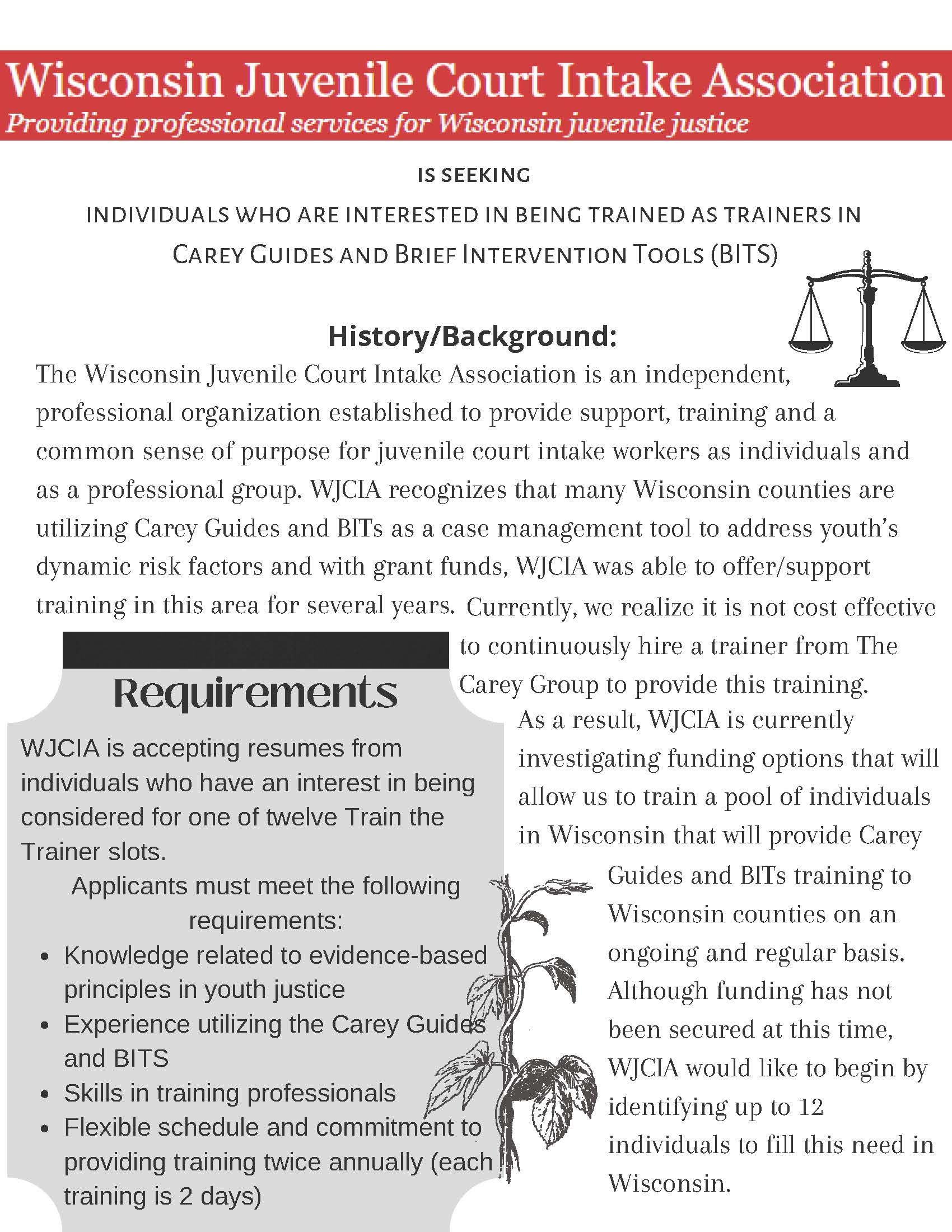 ANNUAL CONFERENCE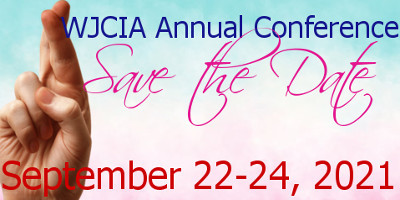 It's official!! The annual WJCIA Conference will be held IN PERSON at the Kalahari in Wisconsin Dells September 22-24, 2021! We have a great line up of keynote and break out speakers and we're very much ready to get everything moving along again!
LEGISLATION NEWS 
 A large bullet point on the recent release of the Governor's upcoming budget is returning 17 year-olds to the Youth Justice System. WJCIA, among other state wide organizations, joins in this platform. Look
here to see the letter being sent out on behalf of the WJCIA in favor of this legislation change.
COVID-19 REFERRAL INFORMATION
Due to the current state of things, many, if not all, county departments and Youth Justice Departments around the state have been moving towards technology based communication. 
If you have questions regarding where to send intake information during this time, please see this list, organized by county. If your information is not listed here, please send appropriate and updated information to Cathrina Dunnum at cathrina.dunnum@vernoncounty.org. 
Out of County Contacts to Send YJ Referrals
Adams
Ashland
Barron
Bayfield
Brown
Buffalo
Burnett
Calumet
Chippewa
Clark
Columbia
Crawford
Dane
Dodge
Door
Douglas
Dunn
Eau Claire
Florence
Fond Du Lac
Forest
Grant
Green
Green Lake
Iowa
Iron
Jackson
Jefferson
Juneau
Kenosha
Kewaunee
La Crosse
Lafayette
Langlade
Lincoln
Manitowoc
Marathon
Marinette
Marquette
Menominee
Milwaukee
Monroe
Oconto
Oneida
Outagamie
Ozaukee
Pepin
Pierce
Polk
Portage
Price
Racine
Richland
Rock
Rusk
Croix
Sauk
Sawyer
Shawano
Sheboygan
Taylor
Trempealeau
Vernon
Vilas
Walworth

Walworth County DHHS, PO Box 1005, Elkhorn, WI, 53121 ATTN: Renee Peck

Washburn
Washington
Waukesha

WAUKESHA COUNTY YOUTH INTAKE ATTN:  JESSICA HANNAMAN VERVIEW AVE WAUKESHA WISCONSIN 53188

Waupaca
Waushara
Winnebago
Wood

Stephanie Wanserski swanserski@co.wood.wi.us
Wood County Human Services Dept. Attn Stephanie 11 W. Jackson St. Wisconsin Rapids, WI 54494
Wisconsin Juvenile Court Forms now online
As of Wednesday, May 1, 2019, the Wisconsin Court System and Juvenile CCAP will no longer be hosting the following forms on its website: 
JC-1607 - Informal Disposition Agreement
JD-1701 - Court Referral (Law Enforcement)
JD-1702 - Court Referral (Non-Law Enforcement)
JD-1705 - Notice of Intake Inquiry
JD-1706 - Deferred Prosecution Agreement
JD-1707 - Notice of Satisfaction of Obligations of Deferred Prosecution/Informal Disposition
JD-1708 - Notice of Victims
 The forms will now be hosted on the WJCIA website at https://wjcia.org/Court-Forms. WJCIA will make every attempt to ensure the forms are up-to-date; however, it is best practice to check state statute to see if there have been any changes. 
 Please let all of your law enforcement and school partners know about the changes and where to find the forms. If you have any questions or concerns, please feel free to email any of the WJCIA board members.